Less than two and a half hours from Atlanta, Chattanooga serves as the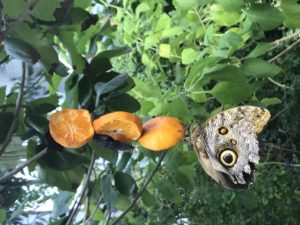 perfect getaway for families. With the mountains as a beautiful backdrop and the river running through the town, its a perfect place to get outdoors and enjoy nature.
If you enjoy nature, but prefer your fun indoors, check out the amazing spots that my girls and I visited while in Chattanooga
Tennessee Aquarium – The Tennessee Aquarium has quickly moved up to our most favorite aquarium in the United States.  The aquarium is moderately price, which helps in its ranking, and offers a generous discount for military (active and veteran) families.  It is separated into two buildings, River Life & Ocean Life, which makes for a unique experience.  We started with ocean life and were treated to a host of amazing creatures including sting rays, sharks, penguins, and even a butterfly farm. The girls were able to interact with both the sting rays and butterflies up close and personal.  It was a delight to watch the bubble experiment with the penguins.  We got to explore hypotheses and question whether or not the penguins would be unbothered by the bubbles.  Turns out, penguins are just like our species and the youngins' are enthralled by bubbles as well!  The diver talk and experiment was surely a treat.  Our family got to experience the divers explore and even answered one of our questions.  Then on to the River building which boast a host of life found, not only in the Tennessee river, but rivers across the globe.  It was comforting to see just how many rivers and their corresponding regions Naysa remembered from her US Rivers study last school year.  Studying for this test, had the entire family pulling their hair out, but I digress!  As with any decent aquarium, our adventure culminated in the gift shop:-). Seriously, two of the best gift shops I've seen.  We purchased both necessary and unnecessary gift items.  Sadly, we left our entire bag at the restaurant where we stopped for lunch (bummer).  If you only get to do one thing in Chattanooga, DO GO to the aquarium.
Tennessee River Park – Take a walk, hike, or bike along the Tennessee River Park. With life being as busy as it is, it was nice to just take a leisurely walk along the Tennessee River Park with the girls. While we chose to take a slower pace, after a hearty meal at Boathouse Rotisserie & Raw Bar http://www.boathousechattanooga.com, recommend the chargrilled oysters (the girls ate them up!), the park offers bike rentals, fishing, and boating.  There's something for everyone.  I always find it so rewarding to expose the girls to experiential learning.  Our simple walk covered so much.  The park is open dawn to dusk for your enjoyment.
Ruby Falls – A breathtaking waterfall located over 1,120 feet below the surface of Lookout Mountain (another MUST DO). Named after the wife of the explorer who found the site, Ruby Falls was opened as a public attraction in 1930.  The attraction also offers an aerial zip line for explorers and lightweight thrill seekers.  Ruby Falls http://www.rubyfalls.com/ is open from 8am-8pm with guided tours throughout the day. It can be a little pricey, so look for discounts and packages.
While short, we enjoyed our Chattanooga getaway and look forward to returning to the area to see more.