Lanier World, Lake Lanier
For a little beach vibe & fun-in-the-sun Georgians need not go further than 45 minutes north of Atlanta. Sunset cove beach in Lanier World  on Lanier Islands https://www.lanierislands.com/ delivers the feel of a remote island less than an hour from the city.  To say that Lanier Islands is breathtaking is an understatement. Just behind the exquisite members and admittance gate, visitors will find sprawling landscape encompassing an award-winning golf course, lake villas, resort and conference center, and Lanier World.
Upon arrival to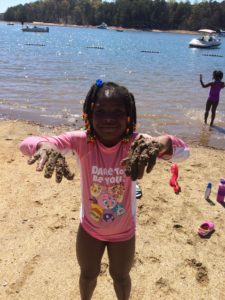 the entrance of Lanier World, the lake still isn't necessarily in plain sight. Mentioned, as it's a good idea to be well prepared with all your beach menageries on the first trek! The actual entrance to Lanier World is still several flights of stairs down, bridge over, and walking path to the actual beach. #girlontack TIP: There's a ramp just around the second pavilion for strollers and wagons (this info would've been helpful on our first hike from the car). Once at the gate, visitors are met by a bubbly, but thorough gate attendant who made certain that no food other than small snacks (one per person) and water were brought onto the property. Sunset Beach Cove is a restaurant serving American fare, coffee, and tropical libations, thus Lanier World ensures you have anything you may have a taste for.
When finally inside Lanier World, what a sight! As April 1st-7th is historically the Spring Break Opener and free to the public that week only, a plethora of inflatables greet you, seeming to take over the path leading to the bandstand, restaurant and convenient, communal fire pit seating (there's lots of communal seating in Georgia it seems!). #girlontrak TIP: Utilize the bathroom that is a hefty 2 flight of stairs and one killer incline up and just past the entrance BEFORE you head to the beach. You won't want to walk all the way to the beach with all your beach crap (or even midway) then track back with kids to conquer that hill to relief yourselves.
Spring Break Day 3: Lanier Islands (grounds admission), Lanier World (free for spring break week opener), and Sunset Cove Restaurant
Cost:  $62.32