Let's face it, nothing can replace potato chips, or at least this is my perception. However, we all know that there are many other options available to provide that crunch that we all crave.  Incidentally, and perhaps more kill joy driven, intense cravings for crunchy snacks can signal a deficiency in Omgea-3.    Learning to eat to address your body's deficiencies will not only put your body back in balanc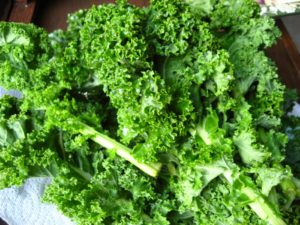 e, but increase your energy.  All On-Track Moms could use more energy, right?  Part of my quest to find amazing Kale Chips from a store, promoted my research to expose my deficiencies.  Sitting in your car in the grocery parking lot talking yourself out of the dill pickle chips and into the kale chips, signals an unhealthy does of deficiency.
Lucky for my health, my will-power is stronger than my deficiency.  I opted for the kale chips.  Not remotely close to the yummy kale chip goodies that I make at home (see simple recipe below), it put me on a quest to research and solicit opinions from some of my favorite busy mom moguls on their favorite store brought Kale Chip brands.  So, here's the line up of the top 5 Kale brands and stores to find them.
Brad's Crunchy Kale: Vampire Killer
Vampire Killer flavor is made with just 100% organic produce, such as sunflower seeds, chickpea miso, and most importantly, kale.
Cost  $4.99
Made in Nature: Rosemary Truffle Kale Chips
Truffle oil and anything? Yes please!  All organic ingredients with yummy rosemary, its a snack explosion
Cost $5.99.
Trader Joe's Seasoned Kale Chips
Trader Joe's Kale Chips are seasoned with creamy cashew butter and tahini.  More of a crunchy Kale bunch than a chip, but tasty just the same.
Cost  $3.99
While suitable alternatives, NONE replace the very simple do-it-yourself Kale Chip recipe below.  One warning, your kids will LOVE it, so make enough for the entire family.
Ingredients:
2 bunches kale
2 tablespoons olive oil
2 teaspoons sea salt
Directions
Preheat an oven to 350 degrees F.  Line a non-stock cookie sheet with aluminum foil (easy clean up).
With kitchen shears carefully remove the leaves from the thick stems and tear into chip "like" pieces.  Wash and dry thoroughly, ideally with a salad spinner.  If no spinner, separate on paper towels.  Drizzle kale with olive oil and sprinkle with sea salt.
Bake until the edges brown but are not burnt, 15 to 20 minutes.  You'll want them nice and crispy and all to yourself!