Helen, GA
The city of Helen, a mountain town in northeast Georgia is home to beautiful Unicoi State Park unicoistatepark.com which offers another beautiful lake and campsites.  Decide to do some family fishing for Koi in the stream located just outside of the public cabins for rent.  You'll feel all your stress and worries of city life melt away as yo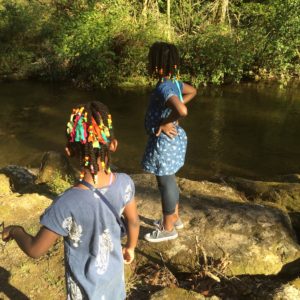 u decompress while admiring the colorful little fish and tranquil creek waters.  The is a $5 vehicle admission fee to reach the falls. Trails run through the Chattahoochee National Forest to the Anna Ruby and Reven Cliff waterfalls.
Before retreating to a cabin oasis, be sure to take in the sites within the center of Helen and its Bavarian-style buildings.  If you enjoy German food, you'll find yourself in Nirvana as the dining options are vast along the main drag in downtown Helen. Be sure to visit Troll Tavern trolltavern.com, a family friendly German Restaurant, serving lunch and dinner.  Kids and adults, equally, will delight in watching the tubers either eloquently meander down the river or bottom out as their tubes catch one of the many rocks located in the shallow river running through downtown Helen.  The food and tuber watching keeps a family entertained for hours.  Lunch prices run about $12-$17 per adult and $7 for the kiddos.
A trip to this area is not complete without a tubbing trip down the river.  Check out Cool River Tubing coolrivertubing.com for a "must-do" Georgia adventure.  Tubing trips are 1-2 hours and the company open 9am-6pm.  Tubing trips are $8 per person round trip or for $12 per person take advantage of an all-day pass for unlimited trips up and down the river.
Before leaving the Helen area, Moms and daughters alike will delight in a trip to Babyland General Hospital babylandgeneral.com, birthplace of the Cabbage Patch Kid.  Kids and parents will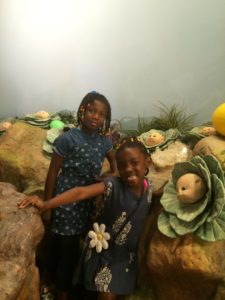 get to witness the live birth of a Cabbage Patch doll and fancy many of the rooms in the Cabbage Patch museum.  Best of all, Babyland General Hospital is FREE. Beware of cute doll clothes ABOUND. Update old doll clothes or add to new ones and still stay within budget. An added bonus to round out a spring break stop to Helen.
Spring Break Day 5: Helen, GA (Unicoi State Park Admission, River Tubing, Lunch, and Babyland General Hospital Doll Clothing)