There's nothing like taking it slow and exploring your hometown, especially when everything in your hometown is still new!
This spring break the clan and I opted to explore the wonders of Georgia. Since every new experience in Georgia is like a vacation to us, we decided to put a little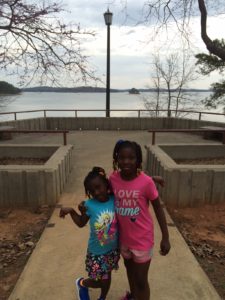 spin on things! Not only are we planning to travel no father than a 250 mile radius, we're also challenging ourselves to stick to a budget of $250 or less. Challenging? For a family of four, of course! Can we do it and still manage  to have a blast doing it? I think so.
We culminated our Girl On Track Spring Break in Georgia after track practice with a leisurely visit to Buford Damn Park in Cummings, GA. We arrived at a perfect time, just prior to dusk to find an amazing and calm shoreline. While the free lookout park does not offer beach access, there was plenty of picnic seating and grills to take advantage of a quaint bbq picnic or just take in the views of the amazing man-made lake.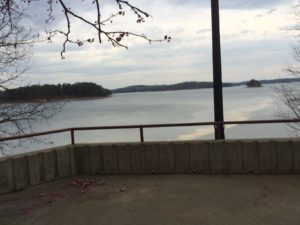 Incidentally, Lake Lanier, It was created by the completion of Buford Dam on the Chattahoochee Riverin 1956, and is also fed by the waters of the Chestatee River.  Named for American poet Sidney Lanier, it was built and is operated by the U.S. Army Corps of Engineers for flood control and water supplies. The lake and its parks are controlled by several cities connected to the lake.
The girls enjoyed the tranquility and beauty of the serene water and it was fun to come full circle (in the daylight), back to Buford Damn Road, a narrow, scary, but absolutely thrilling road from Cummings thru Sugar hill to Buford
Spring Break Day 1: Buford Damn Park
Cost: FREE